100% OF YOUR GIFT TO THE ANNUAL FUND DRIVE GOES TOWARDS ZERVAS
Every dollar donated to the Annual Fund Drive for Zervas PTO is put to work for your child(ren) and the larger Zervas community. Through your donations, the PTO sponsors critical programs fostering student and school enrichment, including:
Classroom, School, Staff and Student Support ($17,440)

Inclusion / In-School Programs ($4,000)

Events / Community Development ($6,000)
It's easy to give, and any amount is truly appreciated. Reaching fundraising goals means the PTO will have the funds needed to support your school and the programming we have committed to for this year's school year.
Since the launch of the Annual Fund campaign this 2022-23 school year, Zervas PTO has received $5,022 in contributions from our Zervas families. With YOUR help, we are confident that we can reach our goal of $9,000!
WHY AN ANNUAL FUND DRIVE?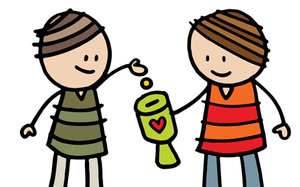 The Annual Fund Drive was created when parents requested a way to support the PTO while decreasing the number of time-consuming PTO fundraisers. This annual campaign is one of the largest sources of funding for the PTO.
Our PTO relies on all members of our community to contribute whatever is meaningful and comfortable for each family and any amount is truly appreciated. Join us in supporting Zervas by donating today. With your help, we can reach the goal!
CREDIT CARD via PAYPAL — online donations can be made here: zpto.us/AnnualFund
VENMO — Search for us as @ZervasPTO or scan the QR Code with your phone. Be sure to make a note "Annual Fund – child's name" so that we can keep track!
CHECK — made payable to Zervas PTO. You can then hand-deliver or mail your donation to the front desk at Zervas PTO, 30 Beethoven Ave, Newton, MA 02468 or place it in your child's backpack to give to their teacher.
MATCHING GIFTS— Our PTO accepts matching donations. Ask your employer today if they offer a corporate matching program. For more information on donating to the Zervas PTO, please contact treasurer@zervasp.to
Zervas PTO is a 501 (c)(3) nonprofit organization, ID #26-3088308, and gifts are tax-deductible to the extent allowed by law.